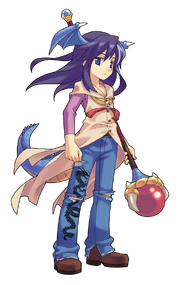 Description and Appearance
The dragon is the male counter-part of the magic-types. He specializes in light or dark magic depending on which one you choose. He's the only character that has three different 3rd Job classes. The dragon wields a large staff and a cloak. He wears scaley wings on his head and a tail similar to that of a dragon's.
Dragon Hair Dye

2,700 Points

Bleach Coloring

2,700 POints
Johan's Prologue
A descendant of both Roma and Asian, Johan was adopted by his rich parents when he was young. He studied medicine because of his parents wishes, but soon becomes fascinated with astrology and alchemy. One day, he recieves a sign that predicts his return to his gypsy roots and it comes true. After a while, Johan becomes their leader but is faced with a lack of food and other resources. While searching for answers, he gets another sign that shows Caballa Island and he heads off to find wealth for his people.
Job Tree
Skills
(
See also:
Magic skills)
Mana Arrow

Cure

Invincible Casting

Aura of Mana

Bottle of Mana

Rust

Mana Web

Mana Ring

Mana Shield

Mana Storm

Mist of Mana

Arrow Rush

Mana Ring Booster
Ad blocker interference detected!
Wikia is a free-to-use site that makes money from advertising. We have a modified experience for viewers using ad blockers

Wikia is not accessible if you've made further modifications. Remove the custom ad blocker rule(s) and the page will load as expected.