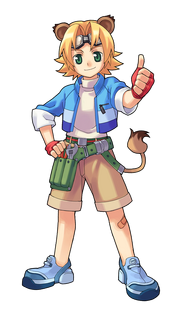 Description and Appearance
The lion is the male counter-part of the Sense-type. He specializes in using guns and Accuracy (AC). The lion is quick and fairly powerful one-to-one attack skills but also offers other useful abilities such as being able to increase critical hits and attack multiple enemies (AoE). He sports a pair of protective goggles and cargo shorts.
Lion Hair Dye

Spot Coloring
Leo's Prologue
Leo studied engineering in hopes of one day building a robot by himself. "World Robot Building Contest", the world cup of robot building contest which is held every 4 years, is being hosted this year. But he needs money to get all the materials necessary to compete. Leo comes to Caballa Island to raise fund for this competition
Job Tree
Skills
(See also: Sense skills)
Ad blocker interference detected!
Wikia is a free-to-use site that makes money from advertising. We have a modified experience for viewers using ad blockers

Wikia is not accessible if you've made further modifications. Remove the custom ad blocker rule(s) and the page will load as expected.