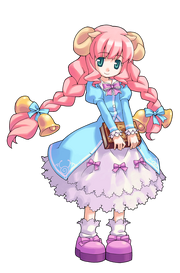 Description and Appearance
The sheep is the female counter-part of the magic type. She uses ranged attacks to deal magic damage through magic ability (MA). She offers powerful AoEs focusing on Elemental Magic and also healing abilities. The sheep is dressed in frilly, cute clothing and has sheep-like curly hair.
Sheep Hair Dye

2,700 Points

Pearl Dye Coloring

2,700 Points
Mico's Prologue
As a librarian, Mico has deep knowledge on just about everything in the world. One day, she finds a book that isn't part of the library collection. Mico realizes that the book is about ancient wizardry and learns the tricks of witchcraft. Shortly after, she learns of the news regarding Trickster and Caballa Island and sees it as an opportunity to raise money to build her own library, her life-long dream.
Job Tree
Skills
(
See also:
Magic skills)
Mana Arrow

Cure

Invincible Casting

Aura of Mana

Bottle of Mana

Rust

Mana Web

Mana Ring

Mana Shield

Mana Storm

Mist of Mana

Arrow Rush

Mana Ring Booster
Ad blocker interference detected!
Wikia is a free-to-use site that makes money from advertising. We have a modified experience for viewers using ad blockers

Wikia is not accessible if you've made further modifications. Remove the custom ad blocker rule(s) and the page will load as expected.